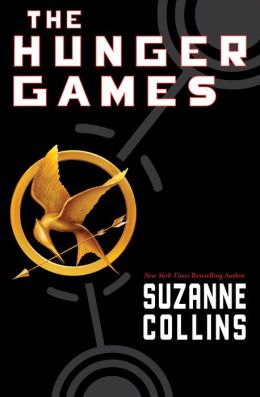 by Suzanne Collins, 374 pages, Grades 8 and up.
Student review!
The Hunger Games by Suzanne Collins is set in the post-apacolyptic society of Panem. The society is split into 12 districts controlled by the richest and most powerful place: The Capitol. The Capitol holds an annual "Hunger Games" in order to keep the districts from rebelling. The games are a fight to the death; two people from each district, a boy and a girl, are chosen from each district and placed in an arena to fight. The show is projected to all of Panem. The twelfth district is a very poor district that provides coal for the capitol; families there struggle to survive as it is. This is where Katniss and Primrose Everdeen live with their mother. Katniss hunts forages for food illegally just to keep from her family from starving. When the annual draw of names comes around ensions are high within the district, and Katniss is nervous because Prim has to put her name in for the first time. As a massive crowd gathers around to watch the "reaping," everyone wonders who will have to fight in the Hunger Games this year.
Next in the series: Catching Fire, and Mockingjay by Suzanne Collins
kt
Click here to see if the book is in the library.
Tags: adventure, brothers and sisters, death, dystopias, friendship, teens, war